St. Croix Rods Expands Ice Fishing Lineup
New Croix Custom Ice (CCI) rods are engineered for unmatched performance
Park Falls, WI (June 13, 2019) – It may be summertime, but the great allegiance of hardwater anglers is always thinking ice. Open water prevails, yet the passion for all things ice fishing remains. That's part of the reason ice fishing should never be referred to as a hobby or pastime; honestly, it's a way of life for many.
There's good news for the sect of ice anglers across the country. St. Croix is proud to expand its advanced line of Croix Custom Ice (CCI) rods with even more selections for various species and techniques. New rods include: CI32MLXF Perch Seeker; CI36MLF Spoon Hopper; CI36MHF Trophy Taker; and the CI42HM Apex Predator. Retail prices range from $140-$160.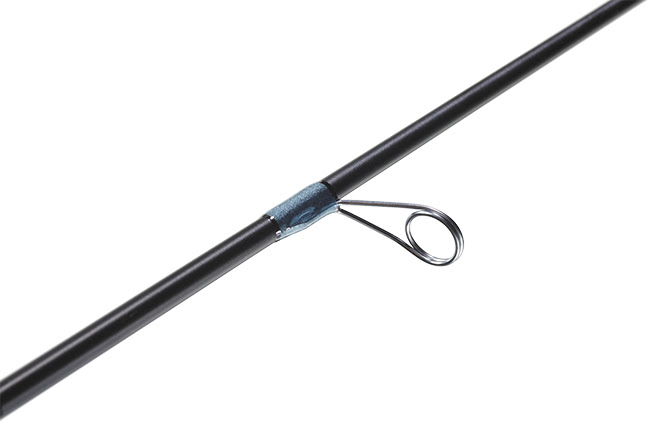 The Croix Custom Ice line features carefully engineered rod blanks as diverse as the specialized techniques they serve, including rods of solid carbon, solid glass, tubular carbon, tubular carbon and glass, as well as tubular carbon fused to glass through a unique, proprietary manufacturing process. A particularly exciting and unique rod in the expanded CCI lineup is the 32-inch medium-light power, extra-fast action CI32MLXF Perch Seeker.
St. Croix's Director of Manufacturing and Engineering, Jason Brunner, comments, "St. Croix is known for making true, extra-fast rod blanks while keeping them durable and light, which is something a lot of companies can't do. We have the design experience and manufacturing resources, tools and equipment to pull it off. We've done lightweight, extra-fast models in our longer, one-piece rods for several years now, so we figured why not bring those same benefits to a a shorter ice rod? We've been impressed with how well the new Perch Seeker performs. It turned out really nice and it's fun to watch the reactions of ice anglers when they pick it up for the first time."
Brunner continues: "To do a smaller ice rod in a tubular structure of that nature—a 32-inch medium-light with a true, extra-fast tip—is very unique. It's something you don't see in the industry because other companies simply can't do it; that's just a fact."
This past winter, a select group of ice anglers discovered the rich feature set and performance of numerous examples of the expanded Croix Custom Ice family, including the 32-inch Perch Seeker (CI32MLXF), the 36-inch medium-light, fast action Spoon Hopper (CI36MLF), and 36-inch medium-heavy power, fast action Trophy Taker (CI36MHF).
St. Croix Rod pro and ice aficionado Joel Nelson remarks, "These three rods quickly became favorites in my on-ice arsenal. The cool part with the Perch Seeker is that it's a hybrid that hasn't really been seen before—a cross between a power-noodle and a dead stick rod. It's a medium-light power rod and still has the extra-fast tip, yet it fishes stiff enough that you can use perch-sized, small walleye-sized, or trophy crappie-sized baits. It's not just a perch rod; it does a lot of things really well. It's something anglers will use if they're fishing the perch factories—your Winnie, your Leech—but also the sloughs of the Dakotas. But it's also something I wouldn't hesitate to use on walleyes or on big crappies, either. This rod is versatile and truly unique. There's no noodle-style rod with a strong base section that fishes to the middle like this rod does."
Nelson continues: "For big fish, increased rod length becomes a real benefit, and the new CCI 36-inch Trophy Taker recognizes this. Anglers are increasingly traveling to trophy walleye factories. They're going to Erie when it freezes, Saginaw Bay, Lake Winnipeg and Devils Lake. They're traveling for trophy walleye and lake trout and short rods put you at a disadvantage with those big fish. Walleye head shakes take the bend right out of the rod, especially with heavy baits. Lake Winnipeg is a good example. You fish a heavy, heavy bait and put any slack in your line and you're going to drop the fish. To see a medium-heavy rod that can handle fish like that with a fast action—not extra fast—is impressive. There's enough bend in it to really keep those big fish buttoned. The Trophy Taker is a rod you can take to the trophy waters and have confidence in doing battle with 10-pound-plus fish.
"The new CCI Spoon Hopper is an outside rod," Nelson observes. "Because of its 36-inch length, it's great for your Mille Lacs, Winnie, and other big water environments. You might be fishing big reefs and you can't just sit; you've gotta roll and hole-hop. It has medium-light power, so you can fish a 1/8-ounce spoon with it perfectly. But because it's longer, you can stand and fish next to the hole without getting lulled into kneeling or sitting down. If you're fishing spoons, which is about 70% of any ice anglers' tackle box in the winter, this thing is the real deal," says Nelson.
Guide Tony Roach is quick to volunteer that he's incredibly familiar with every rod in the Croix Custom Ice lineup and "loves them all" for their specific tactical strengths. But he does have his favorite. "The Perch Seeker is my favorite rod in the lineup, hands down," says Roach. "Everything about the rod feels so good," says Roach, who echoes Nelson's sentiments on the stick's versatility. "It's not only a great perch rod, it's a superb light-walleye and crappie rod, too. The construction is just right on and makes the rod unique. Perch fishermen are going to flock to this rod."
Another new CCI rod favored by Roach is the 32-inch medium power, medium action Dead Eye (CI32MM). "Given more anglers fishing in wheelhouses, you're going to see a lot of rattle reel setups replaced with Dead Eye rods fished as dead sticks," he says. "It's just a lot more fun. I also found that while they're labeled for walleye fishing, they really excel dead-sticking for panfish, too. There were times last winter when we strategically placed these rods outside on stands instead of tip-ups and they really performed well. It was just really fun fishing. The rod has a sweet action and loads up great."
Roach employs other CCI models regularly. "I use the medium-light, fast action Deep Spoon rod (CI32MLF) on a daily basis just for walleye fishing. I also like the increased stiffness of the medium power Search Bait rod (CI32MF) while using rattlebaits. And the longer, 36-inch Outside Eye rod (CI36MF) is an ideal hole-hopping rod. I use them all. I like having the complete arsenal set up in my rod cases, all labeled and ready so I can pick exactly the best tool for the job. Having the right gear definitely helps you catch more fish," concludes Roach.
Indeed, each Croix Custom Ice rod is uniquely designed and engineered to exceed the expectations of the most demanding ice anglers.
CROIX CUSTOM ICE KEY FEATURES
Proprietary blank technology built into each model for extreme performance, including Solid Carbon (SC material), Solid Glass (SG material), Tubular Carbon (TC material), Tubular Carbon / Tubular linear S Glass (TCG material), and Tubular Carbon Fused to Tubular linear S Glass (TCFG material)
5-year warranty backed by St. Croix Superstar Service
Technique-specific ice series features unrivaled technology and performance
SC & SG models: Designed and handcrafted in Park Falls, U.S.A. (with domestic and foreign materials)
TC, TCG & TCFG models: Designed and handcrafted in Park Falls, U.S.A.
REC Recoil guides with black pearl finish
Split-grip / super-grade cork handle
Two coats of Flex-Coat slow cure finish